Next Meeting
Next Meeting
Please note that this meeting will be held at the WI hall, Chale. Please forward any questions on any agenda items to the clerk ahead of the meeting.
Chairmans Report May 2022
This document is available in pdf format
Download
St Catherine's Down Queen's Jubilee Beacons lit up the skies on Thursday, June 2.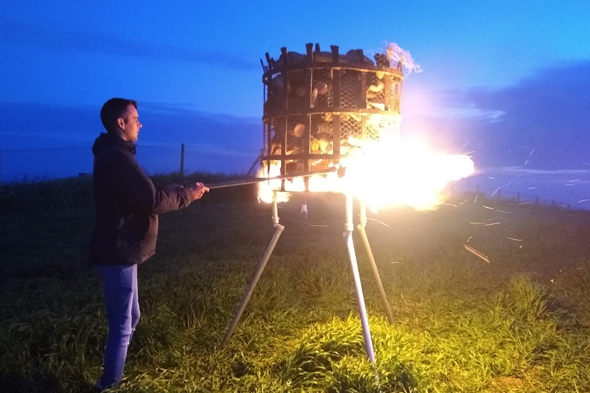 Traditionally it has been lit near the Pepper Pot but this year it was located on the other side of the down so that it could be seen from the Jubilee Fayre at Niton Football Club. It was a joint effort from Chale and Niton and Whitwell Parish Councils to bring the villages together for the celebration.
The tradition of the beacon being lit by the nominated official beacon lighter has been handed down over the years and Edwin passed the title to Brandon Dyer after the last Chale Beacon was lit.
Brandon lit the Beacon at 9.45pm following entertainment at the Niton Fayre and approximately 100 event goers were able look up and appreciate the beacon as well as around 50 who walked up the foot path nearby or from the View Point Car Park.
Thanks go to: Alan Lock for finding the brazier, Blackgang Chine for repairing it, David Brown landowner, Chale Parish Council and Niton and Whitwell Parish Council.
Claire Critchison IW Councillor for Chale, Niton and Shorwell said "It has been an honour to help bring this prestigious event together to celebrate the Jubilee. It continues a tradition in the area and marks an important time in history that can be remembered by residents of the villages. "
CO-OPTION OF ONE MEMBER
The Parish Council will consider the co-option of one person to serve for the Chale Parish Council at a meeting to be held on Monday 11th July 2022 at 6.30 pm
More info