Next Meeting
Next Meeting
Please note that this meeting will be held at the WI hall, Chale. Please forward any questions on any agenda items to the clerk ahead of the meeting.
Chairmans Report Apr. 2021
This document is available in pdf format
Download
New Postbox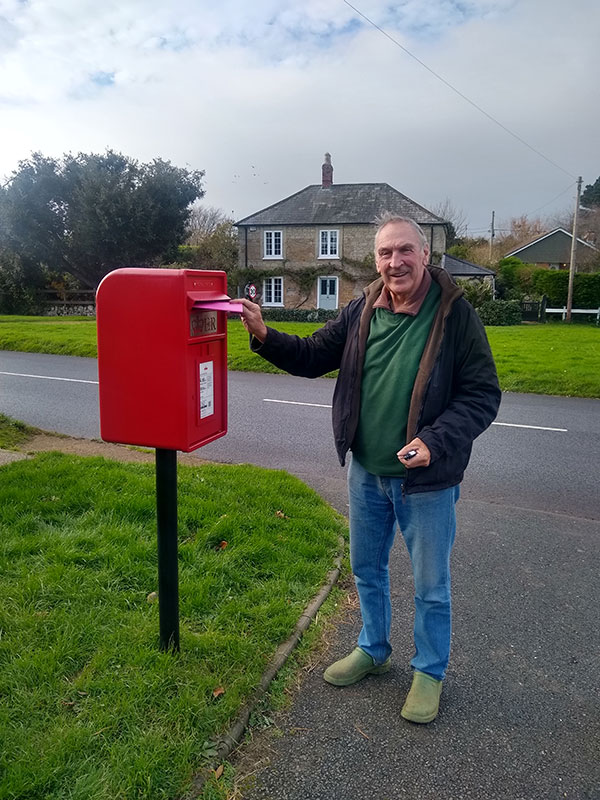 The new postbox at Chale Green is now fully operational with Chairman of the Parish Council, Ron Groves, posting the first letter.
CHALER OF THE YEAR 2020 & 2021
Due the Pandemic in 2020 we were unable to present the award and therefore it was carried forward to this year.
Normally the award is presented to recipient at the Parish Council Annual General Meeting but again we were curtailed as the AGM was a virtual meeting on Zoom.
It was decided, as the award is always carried out as a surprise, we would do the same. Last year's winner was Keith Joyce for all he has done for the village with Chale Show and always assisting to erect the Christmas tree, using his cherry picker. I liaised with his son Kevin, and we arranged the to present it at his Birthday on the 17th July, in his garden with the family present but not knowing why Myself and Pete Gosling our Vice-Chairman turned up at the gathering.
Keith certainly was surprised as were his family and thanked the Parish Council for their kind thoughts.
The Chaler of the Year for 2021 was awarded to Rachael Peyton, who set up the Pop-Up store in Town Lane. She arranged with the Soup Kitchen to supply goods and identified vulnerable and needy families throughout the village; delivering ample food parcels privately to them when the need arose. She had an arrangement with two major food and goods suppliers to buy in at a reduced cost; once they knew what she was doing. The Pop- Up was very popular and worked on donations from villagers as well. Even though the Pandemic seems to have slowed, working with the PC she continues to monitor the situation and has the capacity for a similar supply should the situation again arise.
Our Clerk, Mikki and I surprised her one morning, when she was feeding her horse in a stable, to present her with the award. The shock on her face told us that it was a complete surprise. Both, of the recipients, thoroughly deserved their awards which were unanimous decisions by the Parish Council.
Ron Groves, Chairman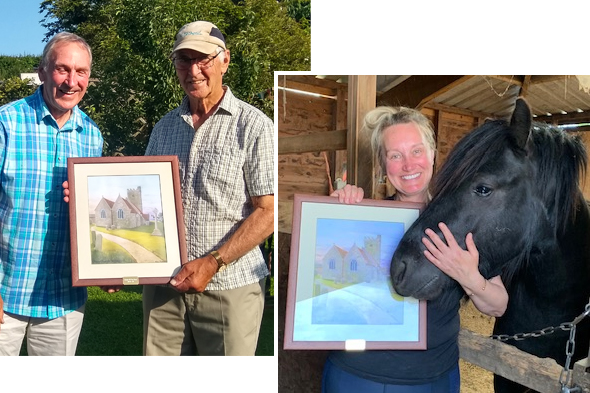 Ron Groves with Keith Joyce (left), Rachael Peyton (Right)
Chaler of the Year. 2020 & 2021